Compressed Gas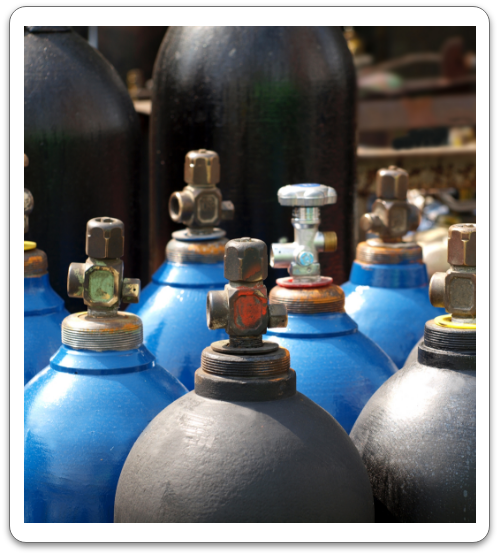 Follow these links
to related legislation
Highlighted words reveal
definitions and supplementary
information when selected
Compressed gases are gases contained in a receptacle under pressure. Compressed gases are stored in heavy-walled metal cylinders designed, produced, and tested for use with pressurized compressed gases. Cylinders are made in a wide variety of sizes and shapes. They range from small lecture bottles, often used for demonstration purposes, to large cylinders over 3 metres long. Common compressed gases include propane, nitrogen, chlorine, helium, argon, carbon monoxide, acetylene, and oxygen.
Employer duties
Employers have a duty to take every reasonable precaution to protect the occupational health and safety of persons at or near the workplace.
The common hazards with compressed gases include:
Sudden and uncontrolled release of the cylinder contents – damaged cylinders can "rocket" or spin out of control and cause significant damage or injury.
Suffocation / Asphyxiation – a compressed gas cylinder contains a very large volume of gas. For example, a litre of nitrogen can form 700 litres of nitrogen gas at room temperature. A leak from a cylinder in an enclosed area could displace the breathable air and cause suffocation.
Frostbite – gasses escaping from a cylinder can be very cold and cause frostbite.
Injury - compressed gases can penetrate the skin or cause objects to enter the skin or eyes.
Other hazards – because gases are chemicals, they may have other hazards such as health, fire, or reactivity. These hazards should also be shown on the WHMIS label and safety data sheet (SDS).
When regulated, such as under WHMIS 2015, compressed gases will be labelled with a "gas cylinder" pictogram on the label. Safe work instructions should be included on the Safety Data Sheet (SDS). Compressed gases are considered dangerous goods under the federally regulated Transportation of Dangerous Goods (TDG) Act and also in the provincially regulated Dangerous Goods (Transportation) Act (in Schedule 1) as class 2 Gases (compressed, deeply refrigerated, liquefied or dissolved under pressure). Specific shipping measures will apply.
There may also be requirements in
CSA standards
that apply, such as:
Working Safely
Common activities that use compressed gases include:
Follow safe work practices:
Read the SDSs and labels for each product you work with.
Know the hazards (fire, explosion, health, chemical reactivity, corrosivity, pressure).
Report leaks to the employer or supervisor immediately and evacuate if appropriate.
Know how to identify which compressed gas is being used or stored.
Use the appropriate fittings on cylinders and regulators. Fittings can be gas specific.
Store compressed gas cylinders in cool, dry, well-ventilated areas, away from incompatible materials and ignition sources. Many compressed gases will explode if heated.
Ensure gas cylinders are securely fastened in an upright position.
Move cylinders in handcarts or other devices designed for moving cylinders. Never roll, drag, or drop cylinders or allow them to strike each other.
Keep dirt, rust, oil, or grease away from all cylinders or fittings.
Leave the cylinder valve protection cap in place until the cylinder is secured and ready for use.
Discharge compressed gases safely using devices, such as pressure regulators approved for that particular gas.
Carefully open all valves, slowly, pointed away from self and others, using the proper tools.
Close all valves when cylinders are not in use.
Work in adequately ventilated areas.
Handle "empty" cylinders safely by:

Leaving a slight positive pressure in them,
Closing cylinder valves,
Disassembling equipment properly,
Replacing cylinder valve protection caps, mark cylinders "empty" or "MT," and
Storing them separately from full cylinders.

Wear the proper personal protective equipment for each task.
Do not tamper with, force connections, or use homemade adaptors.
Do not apply lubricant, jointing compound, or tape to cylinder valves, fittings, or regulator threads.
Do not drop or bang cylinders.
Do not open a damaged valve.
Do not wear watches, rings, or bracelets when working with compressed gas.
CSA is the Canadian Standards Association Group. Certain CSA standards are available for online viewing.
To access these, you must first create an account with "CSA Communities".
Go to: https://community.csagroup.org/login.jspa?referer=%252Findex.jspa
Once you are logged in, click on the text below the "OHS Standards / View Access" graphic.
Click on the jurisdiction of your choice to see the CSA Standards as referenced in that legislation.
Standards may also be purchased from CSA Group: https://store.csagroup.org/
General Regulations
EC180/87
Part 45 PERSONAL PROTECTIVE EQUIPMENT
Section 45.18 Standards
45.18 (1) The employer shall ensure that the selection, use and care of respirators meet the applicable standards and specifications set out and referred to in the CSA Standard Z94.4-18 , "Selection, Use, and Care of Respirators
(2) The employer shall ensure that where air is provided for the purpose of any respiratory protective equipment, the air meets the applicable standards and specifications set out and referred to in the CSA Standard Z180.1-19 , Compressed Breathing Air and Systems.
[EC2020-147, s. 7; EC2021-126, ss. 3, 44]
Part 48 UNDERWATER DIVING OPERATIONS
Section 48.1 Underwater diving operations
48.1 The employer shall ensure that all underwater diving operations meet the CSA Standard Z275.2-20 "Occupational Safety Code for Diving Operations".
[EC2021-126, s. 47]
Part 49 ASBESTOS
Section 49.14 Respiratory protection
49.14 (1) An asbestos contractor shall provide, and ensure that workers use, within an asbestos work area, respirators which are appropriate for the level of risk of the anticipated exposure to asbestos fibres.
(2) An asbestos contractor shall ensure that the respirators provided to workers are selected, used, cleaned, stored, maintained, inspected and tested in accordance with the relevant provisions of CSA Standard Z94.4-18 , "Selection, Use, and Care of Respirators".
[EC596/90, s. 1; EC2020-147, s. 8]
OCCUPATIONAL HEALTH AND SAFETY ACT
R.S.P.E.I. 1988, c. O-1.01
Section 12 Duties of employers
12. (1) An employer shall ensure
(a) that every reasonable precaution is taken to protect the occupational health and safety of persons at or near the workplace;
(b) that any item, device, material, equipment or machinery provided for the use of workers at a workplace is properly maintained, and is properly equipped with the safety features or devices, as recommended by the manufacturer or required by the regulations;
(c) that such information, instruction, training, supervision and facilities are provided as are necessary to ensure the occupational health and safety of the workers;
(d) that workers and supervisors are familiar with occupational health or safety hazards at the workplace;
(e) that workers are made familiar with the proper use of all safety features or devices, equipment and clothing required for their protection; and
(f) that the employer's undertaking is conducted so that workers are not exposed to occupational health or safety hazards as a result of the undertaking.
(2) An employer shall
(a) consult and cooperate with the joint occupational health and safety committee or the representative, as applicable;
(b) cooperate with any person performing a duty or exercising a power conferred by this Act or the regulations;
(c) provide such additional training of committee members as may be prescribed by the regulations;
(d) comply with this Act and the regulations and ensure that workers at the workplace comply with this Act and the regulations; and
(e) where an occupational health and safety policy or occupational health and safety program is required under this Act, establish the policy or program.
(3) An employer shall establish and implement as a policy, in accordance with the regulations, measures to prevent and investigate occurrences of harassment in the workplace.
[S.P.E.I. 2018, c. 45, s. 3]
DANGEROUS GOODS (TRANSPORTATION) ACT
R.S.P.E.I. 1988, c. D-3
Section 1 Definitions
1. In this Act
(a) "analyst" means any person designated as an analyst pursuant to the Transportation of Dangerous Goods Act (Canada) R.S.C. 1985, Chap. T-19;
(b) "container" means an article of transport equipment, including one that is carried on a chassis, that is strong enough to be suitable for repeated use and is designed to facilitate the transportation of goods without intermediate reloading, but does not include a vehicle;
(c) "dangerous goods" means any product substance or organism included by its nature or by the regulations in any of the classes listed in the Schedule;
(d) "handling" means loading, packing or placing, unloading, unpacking or removing or reloading, repacking or replacing dangerous goods in or from any container, packaging or vehicle or at any facility for the purposes of, in the course of or following transportation and includes storing dangerous goods in the course of transportation;
(e) "highway" means a highway as defined in the Highway Traffic Act R.S.P.E.I. 1988, Cap H-5;
(f) "inspector" means any person designated as an inspector by the Minister under this Act;
(g) "Minister" means the Minister of Transportation, Infrastructure and Energy;
(h) "packaging" means any receptacle or enveloping material used to contain or protect goods, but does not include a container or a vehicle;
(i) "prescribed" means prescribed by the regulations;
(j) "regulations" means the regulations made under this Act;
(k) "safety mark" includes any design, symbol, device, sign, label, placard, letter, work, number, abbreviation or any combination thereof that is to be displayed on dangerous goods, packing or containers, vehicles or facilities used in the transporting or handling of dangerous goods;
(l) "safety requirements" means requirements for the handling or transporting of dangerous goods, for the reporting of those activities, for the training of persons engaged in those activities and for the inspection of those activities;
(m) "safety standards" means standards regulating the design, construction, equipping, functioning or performance of container, packaging, vehicles or facilities used in the transporting or handling of dangerous goods;
(n) "shipping document" means any document that accompanies dangerous goods being handled or transported and that describes or contains information relating to the goods and, in particular, but without restricting the generality of the foregoing, includes a bill of lading, cargo manifest, shipping order or waybill;
(o) "Transportation of Dangerous Goods Act (Canada)" means the Transportation of Dangerous Goods Act (Canada), as amended from time to time and includes the regulations made under that Act from time to time;
(p) "vehicle" means every device in, upon or by which a person or property is or may be transported or drawn upon a highway, excepting devices used exclusively upon stationary rails or tracks.
[S.P.E.I. 2010, c. 31, s. 3; 2015, c. 28, s. 3]